Cat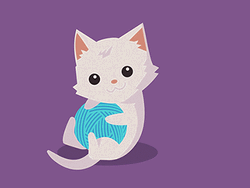 A cat is a small, carnivorous mammal and a popular pet around the world. They are known for their graceful movements, agility, and independence. Domesticated cats are believed to have descended from African wildcats, and have been kept as pets for thousands of years. Cats come in various breeds, each with its own unique characteristics, appearance, and temperament. Some popular breeds include Siamese, Persian, Maine Coon, and Scottish Fold.
Cats are often valued for their companionship and their ability to hunt pests such as mice and rats. They are generally low-maintenance pets, requiring less attention and care than dogs. However, they still require regular feeding, grooming, and veterinary check-ups to maintain their health and wellbeing. Cats are known for their affectionate behavior towards their owners, but they also possess a certain level of independence and can be quite self-sufficient. They are often kept as indoor pets, but some breeds, such as the Bengal, enjoy outdoor exploration and may be trained to walk on a leash.
Do you want to support us?