Peanuts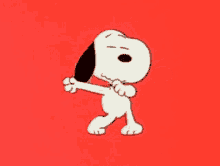 Peanuts is the name of a comic book series. Peanuts is also the English word for peanuts. In English, this also means peanuts.
The series first appeared in American newspapers in 1950. In addition, the comics came out in their own books. Since 1965, there have been television films about it, and since 1969, films in the cinema.
In Peanuts, children are the main characters. However, they often think and talk like adults who can already think very carefully about life. The series is not always funny - sometimes it is also about very serious things. For example, the father of a boy has to fight as a soldier in the war.
For many, Charlie Brown is the most important character, along with his dog Snoopy. Yet Charlie is someone who often loses in life and does not have so much confidence in himself.
The "inventor" of Peanuts was Charles M. Schulz. He had first worked as a teacher of drawing. He grew up in the northwest of the USA, and the Peanuts are similar to that. Schulz died in 2000, when the last Peanuts comic appeared in the newspapers. He determined that no one else should continue drawing the series.
Do you want to support us?