Scorpions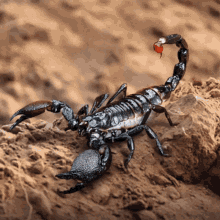 Scorpions belong to the arachnids. So they are close relatives of the spiders. Biology says: They are an order of arachnids. There are many species of scorpions. These can be as small as one centimetre. Other species even grow to twenty centimetres long.
Scorpions have eight legs. In front, they also have two tentacles with claws, just like crabs. In addition, scorpions have a long tail with a poisonous sting at the end. They can use the claws and the sting to defend themselves or catch their prey.
What is unusual about scorpions is that they do not have a face. They do, however, have six to ten tiny dot eyes on top of the carapace. They also do not have a mouth. Scorpions feed with two small claws that come out of an opening in the front of the carapace. The scorpion uses the claws to break down its prey and transport the pieces inside.
Do you want to support us?