Vietnam War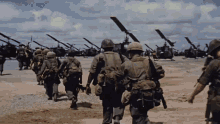 The Vietnam War was a war in Vietnam. It lasted from 1955 to 1975, i.e. for 20 years. In this conflict, South Vietnam fought against the insurgent Viet Cong and the communist North Vietnam. Later, the USA also got involved in the war and fought on the side of the South. The North was supported by China and the Soviet Union, but only with weapons and military advisors. The Vietnam War is therefore also called the "proxy war": Actually, it belongs to the Cold War between the Soviet Union and the USA.
The war took place not only in Vietnam, but also in the neighbouring countries of Laos and Cambodia. These three countries together belong to a region called Indochina. The war ended after the USA stopped supporting the South of Vietnam so strongly. In 1975, the North was therefore able to conquer the South. Vietnam was reunified and since then the communist party has ruled the whole country. The war claimed between two and five million lives. Most of them were not soldiers, but civilians, i.e. normal people.
Do you want to support us?